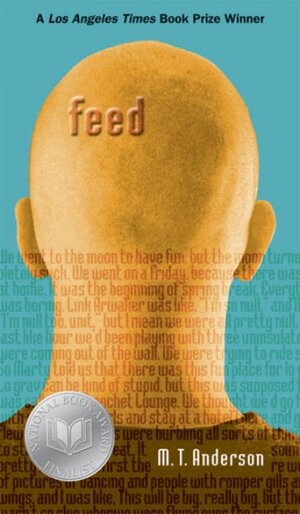 #88- Feed
Rating-6.5/10
So I can see the redeeming value in this book, don't get me wrong with my rating, its not that it was completely terrible or a waste of time. I just couldn't connect with the main character and felt that everything he did was really selfish and I was resentful of the decisions that he made
Feed is a book thats set in the future, where people have 'feeds' that are implanted into their brains which essentially makes them a walking talking computer. They are able to talk to their friends, order clothing, watch television and listen to music all through their brains. Which is a really cool concept.
Each family lives in their own bubble where they control the sun and the moon and everything is grown artificially. People are able to take vacations to the moon and other planets and hair styles and fashion change by the hour. It's an advanced world that everyone is content on living in. Everyone except for Violet that is. We are told the story through the narrator named Titus. He is a boy who has a group of friends and is considered an average teenage boy. He goes to parties, school, has his own car, and considers his life to be very normal. All of this changes when he travels to the moon for spring break. This is where he meets Violet. There is a hacker that comes and affects the club that they go to and they are all sent to the hospital to get their feeds fixed.
Violet and Titus meet and bond there and once he gets to know her he realizes that she's very cool. She has all of these ideas about life without technology, because neither of her parents got the feed installed. She is more interested in rebelling against society and doing things that arent considered normal consumer behaviors. She would choose to spend a random Saturday at the mall trying on the weirdest clothes and checking out the weirdest products in order for her feed to be unable to give her a direct opinion on what she would like in life. She wants to fight the feed.
After a few months of getting to know each other, Violet and Titus are at a party and Violet starts to malfunction. Nobody knows what is happening and she is sent to the hospital. We later find out that the virus affected her more than anyone and they dont know if they will be able to fix her. A girl that Titus considered a casual fling is now becoming all the more serious and only time will tell what happens to the two of them.
I guess that part that frustrated me the most was how badly Titus ends up handling the fact that she is ill and even more so that she expects him to be the perfect boy while she is going through this even though they arent very serious. I felt like the entire situation was giving me anxiety because on one hand I really want them to work out because Violet needs someone to take care of her and on the other hand its not fair at all that Titus has to deal with this when he wasn't aware this was what he was signing up for. All the same it was a really exhausting read towards the end and I felt very emotionally affected in a bad way. I wasn't happy with the ending and was rather traumatized about the idea of life going differently and not happening the way you want it to. I am not sure if maybe I missed the complete concept of fighting against consumerism, but I guess the eventual drama of their relationship was too much for me to truly enjoy the book. There were some redeeming parts, but overall not a favorite of mine so far.
"I looked at her, and she was smiling like she was broken."